I've been to Toronto twice in the past month and I am in love. Before these trips, the only place that I'd visited in Canada was Montréal, which I enjoyed very much. Drop me in a francophone city and I am good to go :) I'm fortunate to have friends in Toronto. And friends = inside scoop on the good places to eat and visit. One of my friends up there is like a walking cultural center - she let me know what's going on in town and what places I should visit on my next YYZ trip.
First things first. Food. Of course. I had brunch with my friends both times that I visited Toronto. I will tell you that the Toronto brunch scene does not play. And it does not disappoint. The first brunch spot we went to was Saving Grace in the Trinity-Bellwoods neighbourhood. The space is tiny, yet intimate and inviting. And the food is amazing. They have a set menu and also quite a few specials. I had a Tuscan-style open-faced breakfast sandwich with a side salad. Perfect portion size. It was worth the wait!
On my other visit, my friends and I had brunch at Beast, a restaurant specializing in using the whole animal to create tasty dishes. We had to start off with the Maple Bacon doughnuts because why not. They were fantastic as evidenced by the following:
I had the Pollo Loco breakfast sandwich - buttermilk biscuit, fried chicken thigh, avocado, ranchero sauce, and sheep's milk feta cheese. With a side of house potatoes. OH MY DAMN. It was so good. I paired it with a Creamy Earl Grey tea which was so good, I drank it black. Definitely worth a visit if you're in Toronto!
Ok, that's enough about food...
My first visit to Toronto was during TIFF (the Toronto International Film Festival). The city was buzzing with TIFF events. I didn't stick around for long because it was raining, but I did catch a glimpse of Rooney Mara at a step-and-repeat outside of a cinema. I do wish I'd been able to view one of the films, but festival tickets were expensive. ¯\_(ツ)_/¯
On my second visit to Toronto, my entire crew and I decided to meet up and go to the World Cup of Hockey semi-finals game between Europe and Sweden that day. It was an absolute blast. I think I became a hockey fan that day.
I got excited when the game went into overtime because free hockey. Too bad overtime lasted three minutes before Europe scored the game-winning goal. After leaving the stadium, we took our chance to get a picture with a group of Sweden fans. They were wearing morphsuits....why not?!
Since the weather was chilly that night, we decided on pho for dinner. And we were not disappointed. Oops. Still talking about food. Oh well. ¯\_(ツ)_/¯ We went to Pho Vistro and it was everything we needed. Deelishus food. Chill atmosphere. The perfect end to a wonderful day hanging out with friends and crewmembers.
Toronto has such a lovely, laidback vibe that I enjoy when visiting new places. I feel like my husband and I could move there tomorrow and we'd fit right in. I wouldn't rule it out, especially with the way that the US elections are going.? I mean...Canada has Trudeau. And Québec. And hockey. And Toronto.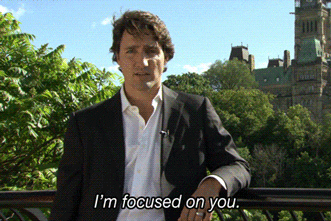 Toronto, imma come back for you.
Here's to hockey, delicious brunches, and discovering hidden gems in new cities,
- j